From t-shirts to mugs, phone cases, and pillows, these soccer gifts for girls will make your favorite soccer girl smile from ear to ear! It doesn't matter if you need something for her Birthday or Christmas – if she loves soccer and dinosaur, we have you covered! We choose our "American Flag" T Rex for this post, but we have over 30 different national flags in our store and some dino designs with national flags. 
PS: We have a free soccer coloring page featuring a Tyrannosaurus which you can download here for free!
From Our Dinosaur Football Collections!
#1) Football Mugs For Girls
Mugs make the perfect gift for girls who love playing soccer. They're affordable, dishwasher safe, and you don't need to worry about the size.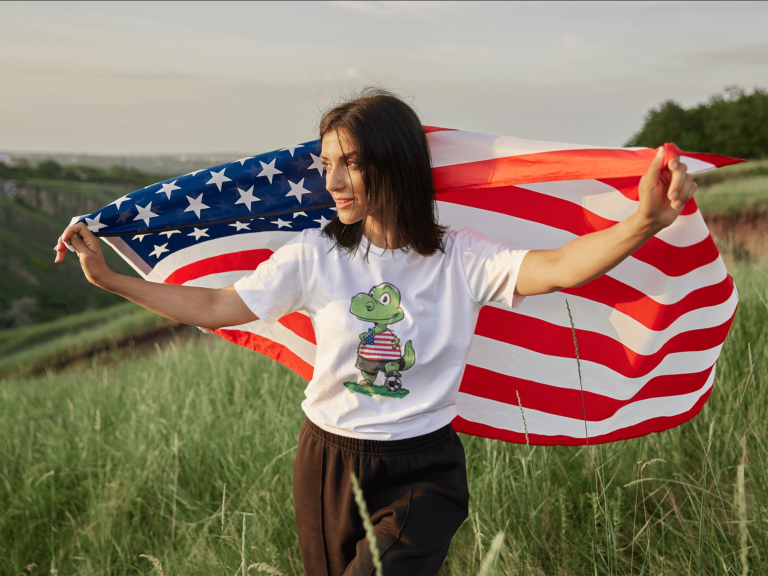 Soccer dinosaur clothes? Yes, yes, and yes. Soccer dino clothes make funny and cute gifts for girls. Our design is available on clothes from baby girls to adult women, on a hoodie, and on t-shirts. No matter the age, we have a fitting shirt! Soft and comfortable, and perfect for casual wear or while watching a game! Again, our soccer-playing dinosaur is also available in different national flags.
Soccer is the most popular sport in the world. And we have the most beautiful* soccer products in the world. Visit our shop and get someone's new favorite gift! (*in our opinion)