Our Fathers Day coloring pages are perfect for kids who want a unique gift for their dad. With an adorable dinosaur dad, holding up a cup because he's the best father a kid could ask for. And the best thing is: Boys and girls who love dinosaurs and coloring are sure to have fun with this sheet. Just print out the page and have fun! Did I say that's the best thing? It's getting better! You can download our Fathers Day coloring pages for free! Each page comes as a printable PDF – all you need to do is: Print it out, hand it over to your kid along with some pencils, and let your little one do the hard coloring work!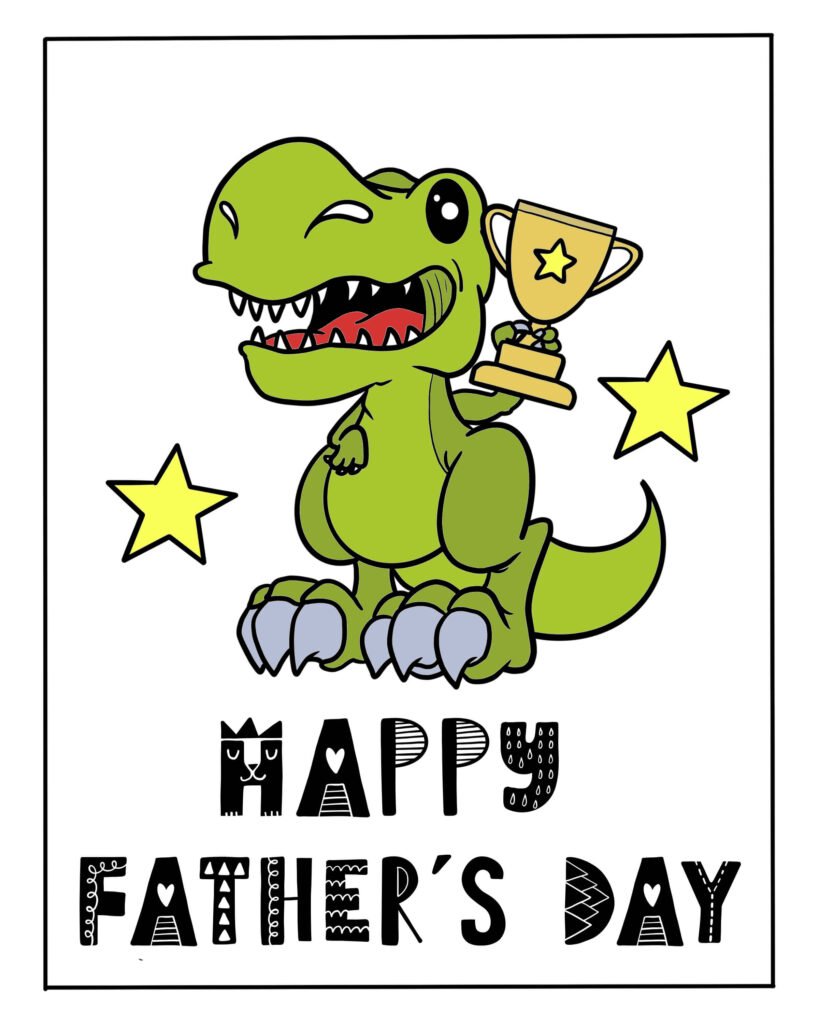 Which dad wouldn't love getting a colorful T Rex image for fathers day? And: We didn't forget grandpa either. Just hit the button and let the fun begin. Unlike many other websites, we're not asking you to subscribe to our site to get your fathers day coloring pages for free! But if you subscribe we'll send you our newsletter with new coming coloring pages, articles, and dinosaur product sales. 
Copyright iHeartDinosaurs.com
All our printable coloring pages are for personal, non commercial use.
More Than 100 Printable Coloring Pages - Free
Bring the world of dinosaurs to life with these fantastic coloring pages from iHeartDinosaurs.com. With more than 100 printable pages, you'll be able to keep your dinosaur-loving kids entertained for hours days. Just click, download, and print a fun dinosaur activity your kids will love. Whether your kid is into triceratops, ankylosaurus, or t-rex dinosaurs, you're sure to find a matching sheet for them. We combined dinosaurs with themes like holidays, sports, professions, outer space, numbers & letters, and more, to create the perfect dinosaur pictures to color for young artists. 
Our coloring pages are free but if you want to support us and you or your little one loves dinosaurs, get a shirt, art print, or mug from our shop! We combined themes (like the biking T Rex to your right) with dinosaurs to create a perfect design for kids and adults who love dinosaurs. We've shipped them to dino fans all over the world and we're hoping you'll be one of them!