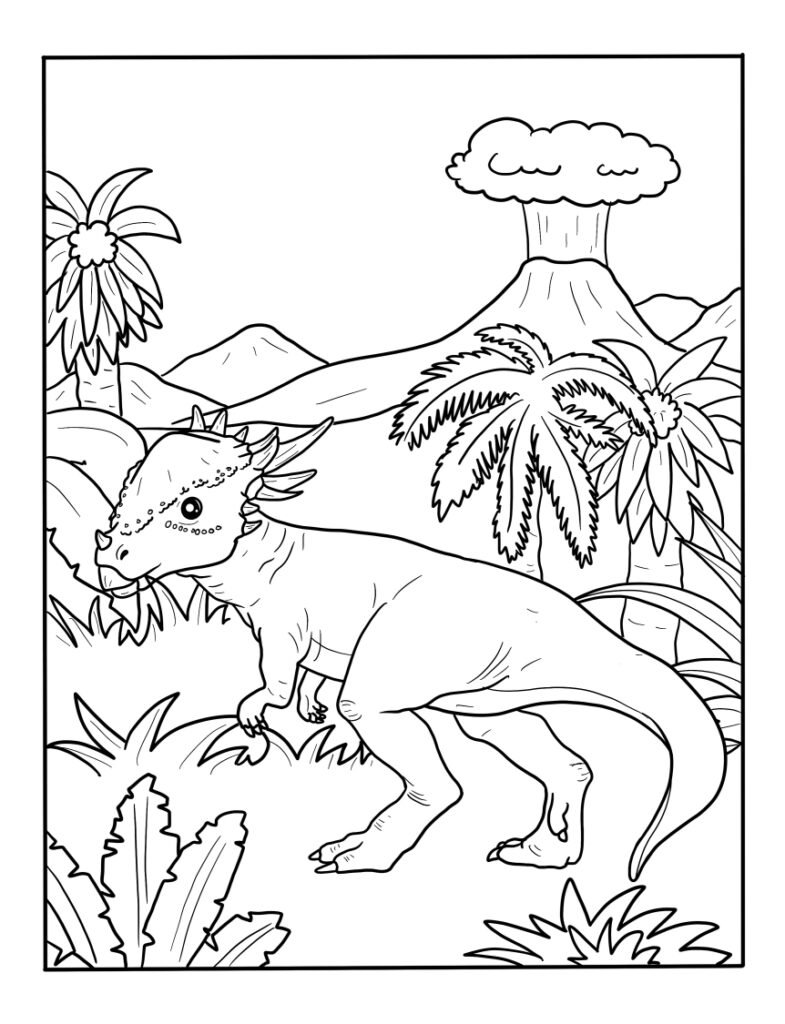 Download a free dinosaur Coloring Page!
Our Dinosaur coloring pages are perfect for kids who love dinosaurs.
This printable Pachycephalosaurus (who the heck came up with this name?) is just one of our available coloring pages.
You don't need to subscribe and you don't need to fill out anything – just hit the download button, and you'll get a free PDF version of the shown dinosaur coloring page.
Perfect for rainy days, long car rides, or just for having fun.
We offer three different sets of coloring pages – the Pachycephalosaurus above is from our collection of realistic dinosaur coloring pages. 
But you can get another free coloring page from our set of letters and numbers and from our set of dinosaur characters.
If your child is a fan of dinosaurs, it will love this free dinosaur coloring page (example from our Letters & Numbers) which provides your little one with a fun activity that will also help to learn letters. Print it out and use it to keep your little one busy for hours at home or while traveling.
Get a FREE dino coloring page from our set with different themes, including Christmas, professions, traveling, etc.! Perfect for little dinosaur lovers between 4 and 9. Your child will have hours of fun coloring dinosaurs like Triceratops, Tyrannosaurus rex, and Velociraptor.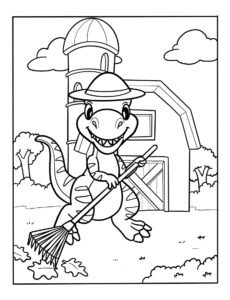 Get a full dinosaur coloring page collection!
Dinosaur Coloring Page Collection
Every dinosaur Coloring Page is ready to print and color. It is an excellent way for kids to channel their creativity while also learning about these extinct but not forgotten creatures.
Perfect for keeping your little one busy on a rainy day, while on the road, for a dinosaur-themed birthday party, or just to have some fun.
I wish I had a coloring book like this when I was a kid!
Get yours now!
Print Every Dinosaur Coloring Page As Often As You Want
This dinosaur page collection is our biggest one and the most creative. It features themes like Christmas, Halloween, different professions, music, sports, and more.
Dinosaurs are some of the most popular animals in the world. Kids (and their parents) can now bring these amazing creatures back to life with our brand new coloring pages.
Packed with dozens of printable, ready-to-color dinosaur pages, this coloring book will appeal to artistic boys and girls.
Add a little more fun to your little one's life! These beautifully drawn dinos are so cute that children won't notice they're practicing their fine motor skills and pattern recognition. Plus, you have some free time to relax and have fun.
Educational Value For A Young Paleontologist
These Letters & Numbers coloring pages are a great way to have fun learning how to write each letter and number.
 Designed for preschool kids and up, children will recognize each character while developing fine motor skills as they practice coloring them. 
Adults will love the time spent with their little ones as they play this educational game together!
Realistic Dinosaur Pages To Color
If you think police dinosaurs and farmers are silly – get this one!
These realistic dinosaurs coloring pages indeed keep your kids busy and entertained.
Every page includes a famous dinosaur like a Tyrannosaurus Rex, Triceratops, Velociraptor, Brontosaurus, etc.
We've even got a Pterodactylus coloring page! Your child will have fun coloring the easy and simple line drawings.
It's never too early to introduce your little paleontologist to the world of dinosaurs.
Get your printable dinosaur coloring pages now!