Free, Printable, Dinosaur Coloring Pages
We love dinosaurs, and we know little boys love them too.
That's why we're giving away 10 printable dinosaur coloring pages for free!
The best part? You can get your instant download right now! 
It's that easy:
Just hit the "Download" button and a PDF opens.
Now print out your dinosaur coloring page. Boom! That's it. Easy, huh?
You can't beat the price! It's free!
#1 Dinosaur Tractor Coloring Pages
Back to nature and living closer to the land, where fresh water freely flows, and a cool summer breeze kisses your face. But farm life would not be complete without a tractor! Boys who love dinosaurs will have a blast with our FREE tractor coloring page! 
#2 Hot Air Balloon Coloring Pages
This adorable Tyrannosaurus Rex is a true adventurer and part of one of our cutest coloring pages. Print out this fun and easy picture for your little one to color! RRAWR-some for all kids, who dream of becoming adventurers and want to travel the world.
#3 Christmas Coloring Page For Boys
Every Kid loves Christmas – which makes our tree decorating trex perfect for a little paleontologist who is also into dinosaurs. Keep your little one busy while you're preparing for the holidays. Just hit the download button and get your printable coloring page for free!
Our printable dinosaur coloring page featuring the letter R was made to entertain boys not bore them and perfect for your preschooler's art time, to keep your kid busy on a road trip or just for fun.
#5 Printable Numbers Coloring Pages
Coloring numbers is a fun and educational activity. These printable numbers coloring pages for kids will keep your child engaged and entertained. They're easy-to-print and your child will be able to practice their number recognition skills. Of course, they feature an adorable dinosaur as well!
Summer is here, and it's time to go hiking! You'll never know what you'll see. A grizzly bear? Maybe. A squirrel, a bunny, or a hedgehog? Possible. A T Rex? Probably not. But you can get this free dinosaur coloring page now, which is almost the same as seeing a dinosaur while going for a hike. Almost!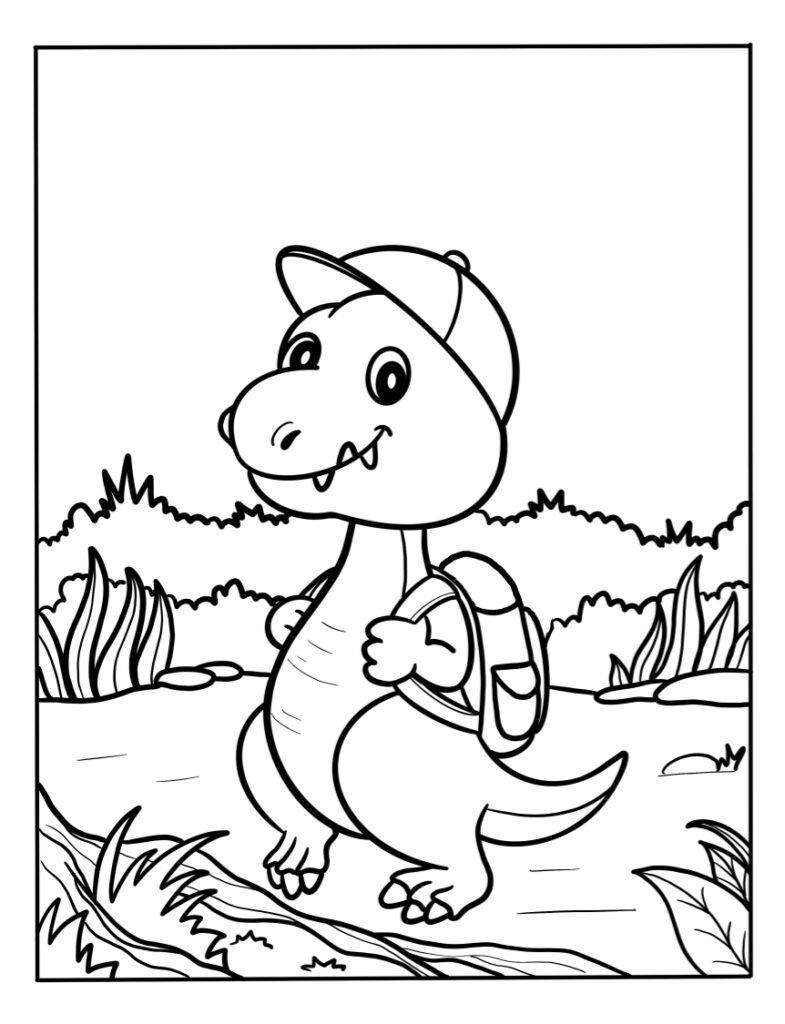 #7 Realistic Dinosaur Coloring Pages
For those who think Christmas Tree decorating dinosaurs who travel the world and drive a tractor are to silly, let me tell you: You're boring! But we have more realistic dinosaur coloring pages as well. Here's a free printable for you.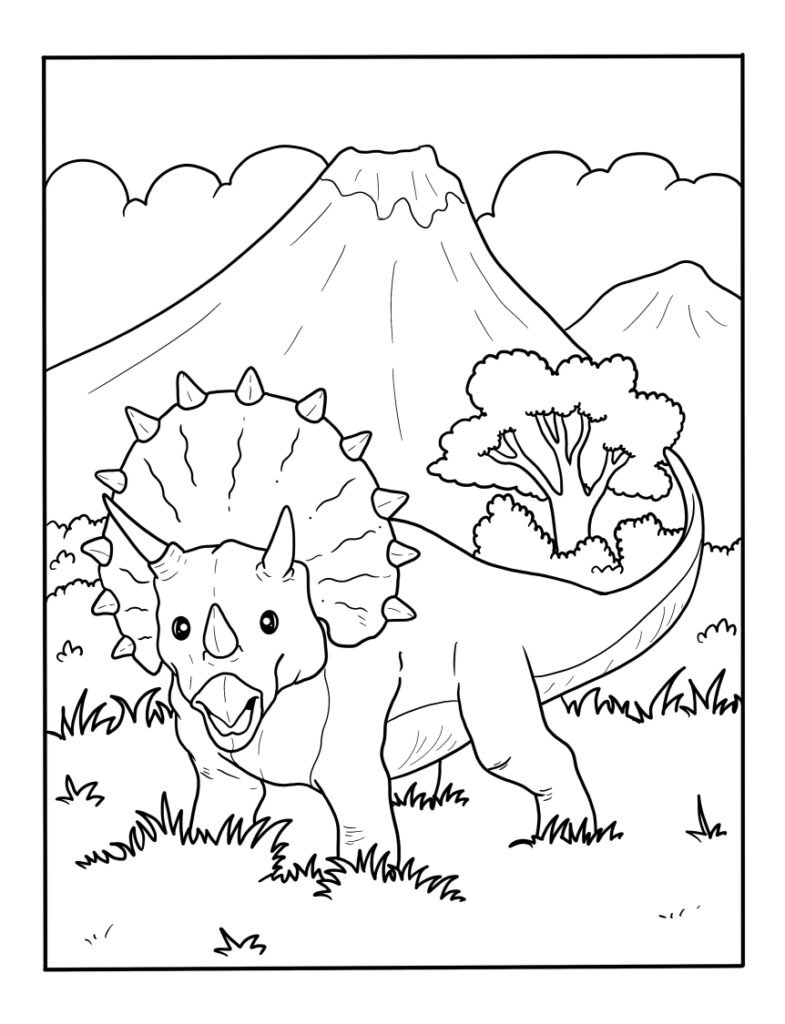 There's actually no way to proove that dinosaurs didn't play soccer. This freebie is perfect for a young boy who plays soccer. And you can just download and print it – let the fun begin!
#9 This is a Pachycephalosaurus
Yes, a Pachycephalosaurus! No idea who comes up with those long names! We're just calling him Pachy. So, this is pachy, the adorable dinosaur. He's a little pale and needs someone to give him color. But that's your little one's job.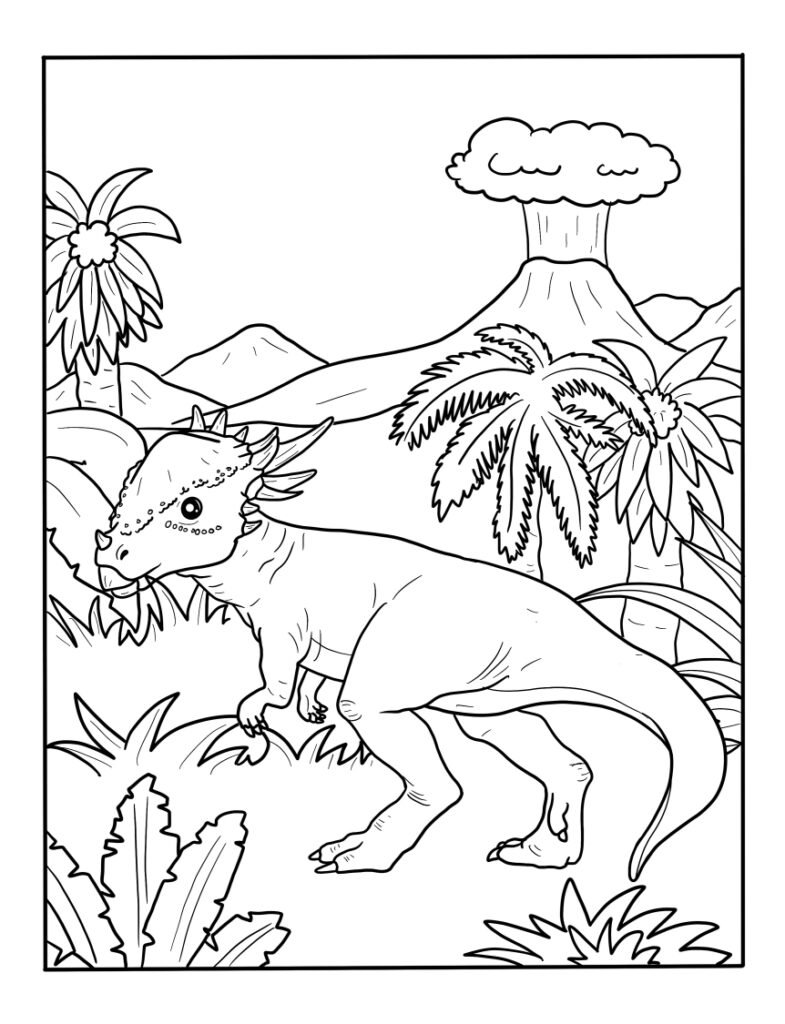 #10 U is for Umbrella - Letter Coloring Page
Printable coloring pages with letters will help your boy learn the alphabet while having fun. And you don't even have to register or sign up for our newsletter to get this one – free!